Yuqing Cai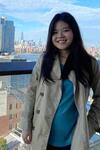 Hasking Laboratories and Yale University
Education:
Tsinghua University, Bachelor's degree, English Language, Graduated in 2020
Tsinghua University, Second Bachelor's degree, Psychology, Graduated in 2020
Research Interests:
I am currently a research master student in the program of Developmental Neuroscience and Psychopathology at the University College London. Before that, I graduated from Tsinghua University, majored in English Language and Psychology. I am interested in developmental disorders and children's language acquisition. I am working on fMRI-based functional connectivity to predict language and social ability of children with developmental disorders as my master's thesis. Another project I am working on is to adopt an EEG technique called "frequency tagging" to development a new version of spoken word recognition task, and also to validate it with fNIRS, which would be suitable to be further applied to children and even infants.
Publications:
Cai, Y., Dong, S., Yuan, S., & Hu, C-P. (2020). 变量间网络分析及其应用 [Network analysis and its applications in psychology]. 心理科学进展 [Advances in Psychology Science], 28(1), 178-190. http://journal.psych.ac.cn/xlkxjz/CN/10.3724/SP.J.1042.2020.00178