LEARN

About the LEARN Center 
A new center has been created at Haskins Laboratories in New Haven, Connecticut, in partnership with individuals and institutions around the world. The intent is for the center to become self-sustaining in a period of approximately three years, with the assistance of a federally funded center grant. We are currently recruiting.
Mission
This center fosters a unique partnership between speech and language clinicians and research scientists to extend our understanding of the neurobiological, physiological, and cognitive processes that underpin speech, language and literacy development in infants, toddlers, and children. The goal of this knowledge is ultimately translational: to inform and improve educational practice and, to the degree possible, to help prevent speech, language, and literacy difficulties through improved early evidence-based assessment, diagnosis, prediction, intervention and prevention.
Who We Are
What we do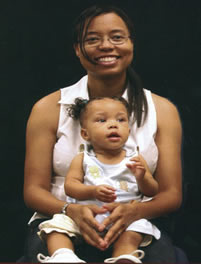 Clinical Tests: Your toddler would participate in several standardized clinical tests. These include the Preschool Language Scales-5 and the Mullen Scales of Early Learning. These involve asking the child to follow directions, identify pictures, and perform various tasks with age-appropriate toy.
We are not accepting participants at this time. Please contact Haskins regarding other studies for young children.