Philip Rubin, Ph.D.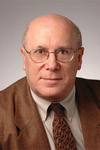 Chief Executive Officer emeritus
300 George Street, Suite 900, New Haven, CT 06511-6624
Philip Rubin is the Chief Executive Officer emeritus and a former Senior Scientist at Haskins Laboratories. He is also an adjunct professor in the Department of Surgery, Otolaryngology, at Yale School of Medicine, Research Affiliate in Psychology at Yale, and Fellow at Yale's Trumbull College. In Dec. 2017, Gov. Dannel P. Malloy appointed Rubin to serve as a member of the UConn Board of Trustees, the governing body for the University of Connecticut. From 2012 -2015, Rubin was Principal Assistant Director for Science at OSTP, led the White House neuroscience initiative, and was co-chair of the NSTC Committee on Science. His research spans a number of disciplines, combining computational, engineering, linguistic, physiological, and psychological approaches to study embodied cognition, most particularly the biological bases of speech and language.
Affiliations
Yale University
Dept. of Surgery, Otolaryngology
Yale School of Medicine
Dept. of Psychology
White House neuroscience initiative
National Science and Technology Council (NSTC)
Representative publications: 
---
Rubin, P., Turvey, M. & Van Gelder, P. (1976). Initial phonemes are detected faster in spoken words than in spoken nonwords. Perception and Psychophysics, 19, 394-398. (PDF)
Fowler, C. A., Rubin, P. E., Remez, R. E., & Turvey, M. T. (1980). Implications for speech production of a general theory of action. In B. Butterworth (Ed.), Language Production, Vol. I: Speech and Talk (pp. 373-420). New York: Academic Press. (PDF)
Rubin, P., Baer, T., & Mermelstein, P. (1981). An articulatory synthesizer for perceptual research. Journal of the Acoustical Society of America, 70, 321-328. (PDF)
Remez, R. E., Rubin, P. E., Pisoni, D. B., & Carrell, T. D. (1981). Speech perception without traditional speech cues. Science, 212, 947-950. (PDF)
Rubin, P. & Vatikiotis-Bateson, E. (1998). Measuring and modeling speech production in humans. In S. L. Hopp & C. S. Evans (Eds.), Animal Acoustic Communication: Recent Technical Advances. Springer-Verlag, New York, 251-290. (PDF)
Goldstein, L. and Rubin, P. (2007). Speech: Dances of the Vocal Tract.Odyssey Magazine, Jan. 2007, 14-15. (PDF)
Hogden, J., Rubin, P., McDermott, E., Katagiri, S., and Goldstein, L. (2007). Inverting mappings from smooth paths through Rn to paths throughs Rm. A technique applied to recovering articulation from acoustics. Speech Communication, May 2007, Volume 49, Issue 5, 361-383.