Paul Gribble, Ph.D.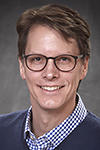 Assoc Haskins Laboratories, Professor of Psychology, University of Western Ontario
University of Western Ontario
Affiliations
Senior Scientist
Haskins Laboratories
Professor
Brain and Mind Institute, Dept. Psychology
Dept. Physiology & Pharmacology
Western University Canada
Contact Information
Paul Gribble
The Brain and Mind Institute
Natural Sciences Centre, Rm 120
Department of Psychology
Western University
London, Ontario N6A 5B7
CANADA
Education
1999      PhD         McGill University
1995      MSc         McGill University
1993      BSc          Queen's University
Research Interest
My research involves basic scientific studies of sensory and motor systems in humans. The primary goal is to increase our understanding of the organization of the human nervous system. I study how the brain controls voluntary movement, and how neuroplasticity in sensory and motor brain areas supports motor skill learning. I conduct empirical studies using neurophysiological techniques such as fMRI, TMS, EEG and EMG, and behavioral approaches using robotic devices to create artificial mechanical environments. I also conduct theoretical studies using computational models and computer simulations to test hypotheses about motor control, neuroplasticity and motor learning.
Representative Publications
McGregor HR, Gribble PL (2015) Changes in Visual and Sensory-Motor Resting-State Functional Connectivity Support Motor Learning by Observing. J. Neurophysiol. 114:677-88
Wong JD, Wilson ET, Kistemaker DA, Gribble PL (2014) Bimanual proprioception: are two hands better than one? J. Neurophysiol. 111:1362-8
Wong J, Wilson ET, Gribble PL (2011) Spatially Selective Enhancement of Proprioceptive Acuity Following Motor Learning. J. Neurophysiol. 105: 2512-21
Kistemaker DA, Wong JD, Gribble PL (2010) The Central Nervous System does not minimize energy cost in arm movements. J. Neurophysiol., 104, 2985-94
Ostry DJ, Darainy M, Mattar AA, Wong J, Gribble PL (2010) Somatosensory plasticity and motor learning. J. Neurosci. 30(15): 5384-93
Supported Grant
NIH Grant RO1 HD-075740 - Training-Induced Plasticity in Human Motor and Sensory Systems (D. Ostry, PI/A196