Michael Stern, B.A., M.A.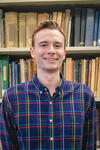 Haskins Laboratories and Yale University
Education:
MA Linguistics, The Graduate Center, CUNY (2020)
BA Social Thought & Political Economy, UMass Amherst (2016)
Research Interests:
I am interested in the relationships between speech planning, speech production, and speech perception. I pursue this interest using experiments and computational modeling, drawing especially on dynamical systems approaches to behavior, perception and cognition.
sternlinguist.com/Stern_CV.pdf
Grant Support
·    A-93: Links Between Production and Perception in Speech
Publications:
Stern, M. C. (2021). Phonological contrast drives phonetic implementation: Evidence from category goodness ratings. University of Pennsylvania Working Papers in Linguistics, 27(1), 221–230.