Martha Tyrone, Ph.D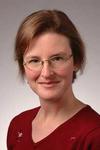 Assistant Professor of Communication Science and Disorders, LIU Brooklyn and Senior Research Scientist Haskins Laboratories
Long Island University Brooklyn
Affiliation
---
Assistant Professor, Department of Communication Sciences and Disorders, Long Island University – Brooklyn
Education
---
2005    PhD     Language and Communication Science, City University London.
1998    MS       Behavioral and Neural Science, Rutgers University—Newark.
1993    MA      Linguistics, University of Chicago.
1991    BA       Linguistics, University of Chicago.
Research Interests
---
My research deals with the relationship between human movement, language and communication, in both clinical and non-clinical populations. Broadly speaking, I am attempting to better understand the structure of sign language, particularly as it relates to the phonetic and phonological units from spoken language, and also to inform the development of sign- and speech-based therapies for neurogenic language deficits. Recently, I have been collaborating with colleagues at Haskins Laboratories to carry out instrumented measures of the coordination of limb gestures and speech prosody in typical speakers.
Representative Publications
---
Tyrone, M.E. (2015). Instrumented measures of sign production and perception: Motion capture, movement analysis, eye tracking, and reaction times. In E. Orfanidou, B. Woll & G. Morgan (eds.) Research Methods in Sign Language Studies: A Practical Guide (pp. 89-104). Chichester, UK: Wiley Blackwell.
Mauk, C.E. & Tyrone, M.E. (2012). Location in ASL: Insight from phonetic variation. Sign Language and Linguistics, 15(1), 128-146.
Tyrone, M.E. & Mauk, C.E. (2012). Phonetic reduction and variation in American Sign Language: A quantitative study of sign lowering. Laboratory Phonology, 3, 431-459.
Tyrone, M.E. & Mauk, C.E. (2010). Sign lowering and phonetic reduction in American Sign Language. Journal of Phonetics, 38, 317-328.
Tyrone, M.E., Atkinson, J.R., Marshall, J., & Woll, B. (2009). The effects of cerebellar ataxia on sign language production: A case study. Neurocase, 15(5), 419-426.
Other Information
---
I am in charge of the Motion Capture Lab.