Maria Arredondo, Ph.D.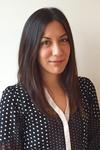 Affiliated Scientist, The University of Texas at Austin
The University of Texas at Austin
Affiliation:
National Science Foundation Postdoctoral Fellow in the Baby Lab, Haskins Laboratories
Education:
| | |
| --- | --- |
| PhD | Developmental Psychology, University of Michigan, 2017 |
| MS | Psychology, University of Michigan, 2013 |
| BS | Psychology and minor in Sociology, University of Houston, 2010 |
Research  Interests:
My research focuses on understanding how bilingual infants and children acquire their languages. More specifically, I am interested in the neuro-cognitive mechanisms supporting dual-language learning and proficiency, as well as how culture can support children during this process. Lastly, I investigate how these mechanisms provide diverse and multilingual children with the skills to succeed academically. The methods of my studies have included experimental designs, neuroimaging (fMRI and fNIRS), standardized assessments, surveys, and one-on-one qualitative child-friendly interviews.
Selected Publications: