Laurie Cutting, Ph.D.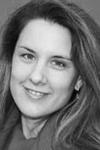 Patricia and Rodes Hart Professor, Department of Special Education, Affiliated Scientist, Haskins Laboratories
Vanderbilt Peabody College
Affiliation
Patricia and Rodes Hart Professor
Peabody College of Education
Vanderbilt University
Dept. of Special Education
Contact
Vanderbilt University
One Magnolia Circle, Room 416C
Nashville, TN 37203
Education
Ph.D., Northwestern University, 1997
Research Interests
Laurie E. Cutting, Ph.D., is Patricia and Rodes Hart Professor of Special Education, Psychology, Radiology, and Pediatrics. She is also a Senior Scientist at Haskins Laboratories and a member of the Vanderbilt Brain Institute as well as the Center for Cognitive and Integrative Neuroscience at Vanderbilt University. She is the principal investigator of several NIH-funded research projects on reading and reading comprehension and a co-investigator on other NIH-funded and Department of Education-funded projects on reading, reading disabilities, and ADHD. She focuses on brain-behavior relations in children and adolescents, with a particular emphasis on reading disabilities, language and executive function. Prior to joining the faculty at Vanderbilt, she was is a research scientist at Kennedy Krieger Institute and an Associate Professor of Neurology at the Johns Hopkins School of Medicine and an Associate Professor of Education at Johns Hopkins University. During her doctoral work at Northwestern University, she completed internships at Yale University School of Medicine's Center for Learning and Attention and the National Institute of Child Health and Human Development. In 2002-2003, she completed an NIH science policy fellowship. She has written and co-authored articles on reading, reading disabilities, other learning disorders, and ADHD.
Representative Publications
Aboud, K.*, Bailey, S.*, Petrill, S., & Cutting, L.E. (in press). Comprehending text versus reading words in young readers with varying reading ability: Distinct patterns of functional
connectivity from common processing hubs. Developmental Science.
Ding, Z., Xu, R., Bailey, S.K.*, Wu, T., Morgan, V.L., Cutting, L.E., Anderson, A.W., & Gore, J.C. (2016). Visualizing Functional Pathways in the Human Brain Using Correlation Tensors and Magnetic Resonance Imaging. Magnetic Resonance Imaging, 34, 8-17. PMCID: PMC4714593.
Price, G.R., Wilkey, E.D. *, Yeo, D.J , & Cutting, L.E . (in press). The Relation between 1st Grade Grey Matter Volume and 2nd Grade Math Competence. Neuroimage, 1, 232-7. PMCID: PMC4651751.
Bailey, S. *, Aboud, K. *, Hoeft, F., & Cutting, L . E . (in press). Anomalous Gray Matter Patterns in Specific Reading Comprehension Deficits are Independent of Dyslexia. Annals of Dyslexia. PMCID in progress.
Barquero, L. *, Sefcik, A., Cutting, L.E., & Rimrodt, S.* (in press). Teaching Reading to Children with Neurofibromatosis Type 1: A Clinical Trial with Random Assignment to Different Approaches. Developmental Medicine & Child Neurology , 57, 1150-8. PMCID: PMC4618264.