Kaja Jasinska, Ph.D, M.A., B.Sc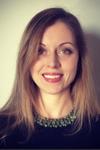 Research Scientist, Haskins Laboratories, Assistant Professor, University of Toronto
Research Interests
I am fundamentally interested in the neural mechanisms that support language (monolingual or bilingual, signed or spoken), reading and cognitive development across the lifespan. My research asks questions such as how early life language experience changes the brain's capacity for language learning? I use MRI and functional Near Infrared Spectroscopy (fNIRS) neuroimaging technology in combination with genetic and behavioral analyses to gain new insights into the biological underpinnings of language, reading, and human cognition. My research also develops novel data analysis approaches to functional neuroimaging data (i.e. fNIRS).  My work uses combinations of multivariate statistics and modeling to quantify developmental changes among interacting brain systems that give rise to language and higher cognitive functions.
Publications
Jasińska, K. & Petitto, L.A. (Revise and Resubmit). Age of Bilingual Exposure Predicts Distinct Contributions of Phonology and Semantics to Successful Reading Development.
Jasińska, K. & Petitto, L.A. (2014). Development of Neural Systems for Reading in the Monolingual and Bilingual Brain: New Insights from functional Near Infrared Spectroscopy Neuroimaging. Developmental Neuropsychology. 39(6), 421-39. doi: 10.1080/87565641.2014.939180
Jasińska, K. & Petitto, L.A. (2013). How Age of Bilingual Exposure Can Change the Neural Systems for Language in the Developing Brain: A functional Near Infrared Spectroscopy Investigation of Syntactic Processing in Monolingual and Bilingual Children. Developmental Cognitive Neuroscience. 6, 87-101. doi: 10.1016/j.dcn.2013.06.005
*Note: 14th most downloaded Developmental Cognitive Neuroscience Articles
Petitto, L.A., Berens, M.S., Kovelman, I., Dubins, M.H., Jasińska, K., & Shalinsky, M.
(2012) The "Perceptual Wedge" hypothesis as the basis for bilingual babies' phonetic processing advantage: New insights from fNIRS brain imaging. Brain and Language. 121(2), 142-155. doi:0.1016/j.bandl.2011.05.003
*Note: Article was recommended by Steven Pinker as one of six articles for researchers who want to read up on the latest in language science in the APA Observer. 
---