Julie Van Dyke, Ph.D.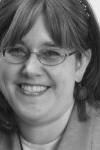 Affiliations
Senior Scientist, Haskins Laboratories
Adjunct Professor, Department of Linguistics and Languages, McMaster University
Adjunct Doctoral Faculty, Program in Speech-Language-Hearing Sciences, City University of New York (CUNY) Graduate Center
Education
Ph.D., Cognitive Psychology, University of Pittsburgh
M.Sc., Computational Linguistics, Carnegie Mellon University
B.A., Computer Science and Linguistics, University of Delaware
Research Interests
Dr. Van Dyke investigates the interaction of phonological, memory, and executive function abilities on reading and language comprehension across the life-span, with a special focus on language-based clinical disorders.  She utilizes eye-tracking methods to investigate natural reading behaviors and the speed-accuracy tradeoff technique to precisely characterize the dynamics of word retrieval and linguistic processing.  She also conducts experiments using magnetic resonance imaging (MRI) and electroencephalography (EEG/ERP) to determine the neurobiological basis of skilled and disabled reading. A driving hypothesis in her research relates to the pervasive reliance on memory retrieval during language processing and the role of similarity-based interference as the primary limitation on successful comprehension.
Representative Publications
Johns, C.L., Matsuki, K. & Van Dyke, J.A., (2015).  Poor readers' retrieval mechanism: Efficient access is not dependent on reading skill. Frontiers in Psychology—Language Sciences, 6:1552.  http://dx.doi.org/10.3389/fpsyg.2015.01552 (PubMed Journal—PMCID In Progress)
Van Dyke, J.A., & Johns, C.L. Kukona, A.  (2014).  Low working memory capacity is only spuriously related to poor reading comprehension, Cognition, 131(3), 373-403. http://dx.doi.org/10.1016/j.cognition.2014.01.007 PubMed Central PMCID:PMC3988267
Glaser, Y.G., Martin, R.C., Van Dyke, J.A., Hamilton, A.C., Tan, Y. (2013).  Neural basis of semantic and syntactic interference resolution in sentence comprehension. Brain and Language, 126, 314-326.  http://dx.doi.org/10.1016/j.bandl.2013.06.006 PubMed PMID: 23933471; PubMed Central PMCID: PMC3816580
Kuperman, V., & Van Dyke, J.A. (2011a). Effects of individual differences in verbal skills on eye-movement patterns during sentence reading. Journal of Memory and Language, 65(1), 42-73. http://dx.doi.org/10.1016/j.jml.2011.03.002 PMCID: PMC3119501
Van Dyke, J.A. & McElree, B. (2011). Cue-dependent interference in comprehension. Journal of Memory and Language, 65, 247-263. http://dx.doi.org/10.1016/j.jml.2011.05.002 PMCID: PMC3171743
Grant Support
Principal Investigator, subcontract, National Institutes of Health (R56-AG-049733) "Effects of age-related declines in working memory on syntactic comprehension" (David Caplan, PI) 2015-2016
Principal Investigator, National Institutes of Health (R01-HD073288) "Retrieval interference in skilled and unskilled reading comprehension" 2012-2017
Investigator, National Institutes of Health (P01-HD001994) "Nature and Acquisition of the Speech Code and Reading" (Jay Rueckl, PI) 2012-2017
Investigator, National Institutes of Health (R01-HD-067364) "Second language literacy acquisition: Psycholinguistic and neuro-cognitive determinants" (Kenneth Pugh, PI) 2011-2016
Principal Investigator, National Institutes of Health (R21-HD058944) "Individual differences in memory storage and retrieval during reading comprehension"
2009-2012
Investigator, National Institutes of Health (R01-HD-056200) "Memory mechanisms in support of language comprehension" (Brian McElree, PI) 2008-2013
Investigator, National Institutes of Health (R01-HD-040353) "Neurobehavioral Mechanisms in Reading Comprehension" (Donald Shankweiler, PI), 2005-2011