Jonathan Preston, Ph.D.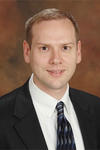 Associate Professor, University of Syracuse, and Affiliated Scientist, Haskins Laboratories
Affiliations
Haskins Laboratories &  Syracuse University Department of Communication Sciences & Disorders
Education
---
PhD Speech-Language Pathology, Syracuse University 2008
MS., Speech-Language Pathology, Syracuse University   2002
B.S., Speech & Hearing, Elmira College  2000
Research Interests
---
My research focuses on speech, language, and literacy development and disorders in children and adolescents. I have conducted research on the neurolinguistic and behavioral connections between spoken and written language impairments. I conduct clinical research on treatments for children with persisting speech sound disorders, including childhood apraxia of speech, with a current focus on the use of ultrasound visual feedback of the tongue to improve speech sound production.
Supported Grants
---
A40 (coinvestigator, A206< (coinvestigator), A204 (coinvestigator), A201 (PI)
Links:
---
MyNCBI: http://www.ncbi.nlm.nih.gov/sites/myncbi/jonathan.preston.1/bibliography/45094208/public/?sort=date&direction=ascending
Google Scholar: https://scholar.google.com/citations?user=UfRR0gMAAAAJ&hl=en