Erin Isbilen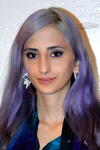 Education:
-       Undergraduate: University of California, Santa Cruz (Major in Psychology, Minor in Literature)
-       Graduate: Cornell University (Department in Psychology, Minor in Cognitive Science)
Research Interests:
How do people learn language in the face of its vast complexity? My research investigates how domain-general cognitive mechanisms can explain many complex linguistic behaviors, from word learning to sentence processing. My NSF GRFP-funded dissertation work at Cornell University focused on how individual differences in statistical learning and memory predict linguistic proficiency in adults, and on developing improved methods of testing these phenomena. My current work as an NRSA Postdoctoral Research Fellow in the LLAMB Lab at Haskins seeks to expand these findings, by investigating how the same processes predict language and reading development in pre- and early-literate children.
Representative Publications:
Isbilen, E. S., Frost, R. L. A., Monaghan, P. & Christiansen, M. H. (in press). Statistically-based chunking of nonadjacent dependencies. Journal of Experimental Psychology: General.
Isbilen, E. S., McCauley, S. M., Kidd, E., & Christiansen, M. H. (2020). Statistically-induced chunking recall: A memory-based approach to statistical learning. Cognitive Science, 44: e12848. doi:10.1111/cogs.12848
Isbilen, E.S. & Christiansen, M.H. (2020). Chunk-based memory constraints on the cultural evolution of language. Topics in Cognitive Science. https://doi.org/10.1111/tops.12376
Aryani, A., Isbilen, E. S., & Christiansen, M. H. (2020). Affective arousal mediates the matching of sounds and shapes. Psychological Science. https://doi.org/10.1177/0956797620927967
Kidd, E., Arciuli, J., Christiansen, M. H., Isbilen, E. S., Revius, K., & Smithson, M. (2020). Auditory statistical learning rapidly supports the processing of larger linguistic chunks across early childhood. Journal of Experimental Child Psychology, 200, 104964. https://doi.org/10.1016/j.jecp.2020.104964
Links:
Grant Support
    (NIH NRSA)  1F32HD104542-01