Eric S. Jackson, Ph.D.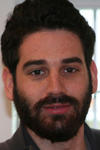 Assistant Professor, Communicative Sciences and Disorders, NYU Steinhardt
Eric S. Jackson is an Assistant Professor in the Communication Sciences and Disorders (CSD) department at NYU. He received his M.S. in Speech-Language Pathology from Brooklyn College of the City University of New York (CUNY) and his Ph.D. in Speech-Language-Hearing Sciences from the Graduate Center of CUNY.
Eric is a clinician-scientist who conducts research on speech communication in people who do and do not stutter. He examines the contextual variability of stuttering—the inconsistency with which stuttering behaviors manifest themselves—and identifies the factors that drive this variability, including anticipation and social interaction. His research goals require multiple tools and analytic techniques: In addition to behavioral assessment, he currently uses (dual-)brain imaging, optical tracking, and computational modeling. In addition to his research, Eric is a practicing clinician with expertise in stuttering intervention. He teaches undergraduate and graduate courses in stuttering, speech science, and research methods. Eric's experience as a person who stutters informs his research, practice, and teaching.
Before joining NYU, Eric was a Postdoctoral Fellow at the University of Iowa, a position supported by the National Science Foundation. Since 2009, he has worked as a Speech-Language Pathologist and Adjunct Professor at several institutions in the US and internationally, and in 2007 co-founded the StutterTalk podcast which he co-hosted from 2007-2011. Eric is currently an Affiliated Scientist at Haskins Laboratories.