Donald Shankweiler, Ph.D.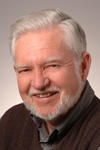 Dept. of Psychology, Unit 1020, University of Connecticut, Storrs, CT
Affiliation
Professor of Psychology Emeritus
406 Wormwood Hill Rd.,
Mansfield Center, CT 06250.
Tel. 860 429-1284
Dept. of Psychology,
Unit 1020,
University of Connecticut, Storrs, CT 06268.
Tel 860 486-3522
Education
Ph.D. University of Iowa, 1960.
Neuropsychology, Psychology of Language
Research
My research focuses on developmental problems of speech and reading and their neural bases. My recent work exploits functional neuroimaging tools to study how patterns of brain activity are molded by experience with spoken and written language. The group is also studying eye movements in reading connected material to investigate the temporal course of reading and comprehending text in real time by readers at various levels of skill. Earlier, my research investigated the nature of cerebral hemispheric specialization for speech and other cognitive functions based on studies of brain-damaged and neurologically intact persons.
Representative Publications
Fowler, C. A., Shankweiler, D., & Studdert-Kennedy, M. (in press). Perception of the speech code revisited: Speech is alphabetic after all. Psychological Review.
Preston, J. L., Molfese, P. J., Frost, S. J., Mencl, W. E., Fulbright, R. K., Hoeft, F., Landi, N., Shankweiler, D., & Pugh, K. R. (2015).  Print-speech convergence predicts future reading outcomes in early readers. Psychological Science, 26, 1 – 10.
Shankweiler, D., Mencl, W. E., Braze, D., Tabor, W., Pugh, K. R., & Fulbright, R. (2008). Reading differences and brain: Cortical integration of speech and print in sentence processing. Developmental Neuropsychology, 33(6), 745-776.
Shankweiler, D., Lundquist, E., Katz, L., Steubing, K., Fletcher, J., Brady, S., Fowler, A., Dreyer, L., Marchione, K., Shaywitz, S., & Shaywitz, B. (1999). Comprehension and decoding: Patterns of association in children with reading difficulties. Scientific Studies of Reading, 3, 95-112.
Shankweiler, D., Strange, W., & Verbrugge, R. (1977). Speech and the problem of perceptual constancy. In R. Shaw & J. Bransford (Eds.), Perceiving, acting, and knowing: Toward an ecological psychology (pp. 315-345). New York: Erlbaum.