Bruno Galantucci, Ph.D.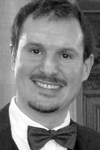 PROFESSOR OF PSYCHOLOGY, Yeshiva University
Affiliations
Senior Scientist
Haskins Laboratories
Associate professor
Department of Psychology
Yeshiva College of Yeshiva University
2495 Amsterdam Avenue, New York, NY 10033
e-mail: bruno.galantucci@yu.edu
Research Interests
Experimental semiotics, human communication, distributed cognition, joint action, speech perception, ecological psychology.
If you would like to know more about Bruno Galantucci, here you can find more information.