Brandi Biscoe Kenner, Ph.D.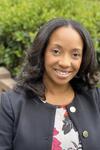 Founder and CEO: Choice-filled Lives Network and the Center for Innovation & Research on Choice-filled Lives (CIRCL)
Sr. Advisor/Consultant: Chan Zuckerberg Initiative
---
Education:
Ph.D. in Psychology: Cognition and Development ,Emory University, 2016
Master of Education, Behavior and Learning Disabilities,

Georgia State University, 2006
Bachelor of General Studies, Elementary Education and Sociology,

University of Michigan, 2001 
Research Interests:
Dr. Brandi Biscoe Kenner is a cognitive developmental psychologist, educator and nonprofit organizational development guru who has dedicated her career to  bridging research-to-practice gaps in education and other social service sectors. 
Her primary areas of expertise and interest are: cognitive development, particularly the cognitive mechanisms underlying early language and symbolic development; the relations between early language development, socio-cultural 
mechanisms, and pre-literacy; second language acquisition and language immersion school models; the relations between social-emotional learning and literacy; adult and professional learning models; and innovative quantitative methodologies and tools. 
Selected Publications:
Kenner, B. B., Terry, N.P., Friehling, A., & Namy, L. L. (2017). Phonemic Awareness Development in 2.5- and 3.5-year-old children: Evidence of Emergent, Receptive Knowledge and Skills. Reading & Writing, 30(7), 1575-1594.
What's Going On in my Kid's Brain? Podcast delivered for the National PTA Association (Air Date: April, 21, 2020)
The Ties Between Social Emotional Learning and Language & Literacy Development. Podcast delivered for Voyager Sopris Learning (Air Date: May 7, 2020)
Learn more about the Choice-filled Lives Network
See Brandi Biscoe Kenner's CV