The Literate Brain: Linking Researchers with Practitioners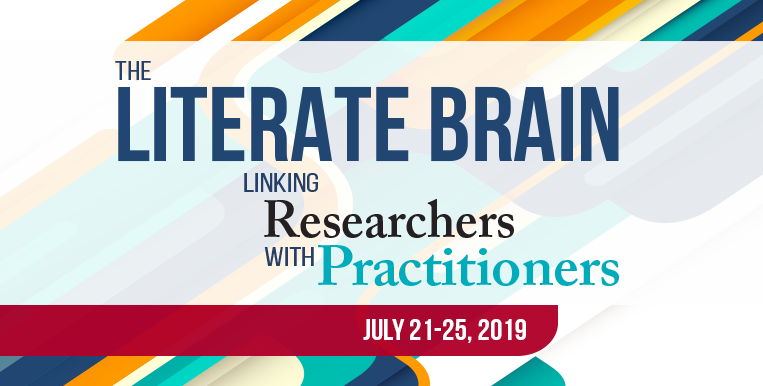 2019 Haskins Global Language and Literacy (GL2) Institute for Educators
Yale University & Haskins Laboratories, New Haven, CT
July 21st - July 25th 2019
The Haskins Global Language and Literacy (GL2) Institute for Educators is an engaging, intensive program for educators and clinicians who work with students in the areas of literacy development, especially students with dyslexia or related language-based learning disabilities. The program will offer in-depth, hands-on training to empower participants with an understanding of the neurobiological and cognitive foundations of language development, an understanding of the types of research being conducted, and how that knowledge may be used for program implementation. Haskins Laboratories, jointly affiliated with Yale University and UCONN, is an international, multidisciplinary community of researchers conducting research on spoken and written language.
Topics will include:
Recent advances in our understanding of the relationship between speech perception/production and early differences in literacy learning

New research on the genetics and brain-basis of the development of word reading, text comprehension, second language learning, and the neurobiology of acquired and developmental reading and writing disorders

Types of neuroimaging being conducted and the brain-basis of treatment

New models of applied research

Evidence-based intervention & the role of ed-tech
Participant Qualifications

:
Individuals with at least 3-5 years of experience in educating students in areas of literacy, especially those with learning disabilities, interested in furthering their understanding of science and how it impacts student instruction. Participants should hold an advanced degree (Master's-level or higher), but do not need to have any type of formal research training or experience. Participants will develop a project in collaboration with other colleagues to bring back to their educational communities. They will also be recognized with a certificate of training from Haskins.
Program Overview

:
The Institute will draw heavily on new developmental research from our team at Haskins and our global collaborative of university partners. Over the course of the week, participants will become part of a unique cohort of educators who will work directly with leading researchers in the field to develop a true understanding of the current state-of-the-art in areas including human brain mapping, cognitive and speech science, and the future impact research may have on understanding language and literacy at an individual level.
2019 Registration Information
Registration is available and payable by check or Paypal.
Fees:
Early Registration (until March 29th, 2019): $2950
Regular Registration (After March 29th, 2019): $3150
Limited scholarship opportunities are available for exceptional candidates who also demonstrate financial need.  To apply, please email a short essay to vincent.gracco@yale.edu including your educational and professional background, why it is important for you to attend the Institute, how you believe it might impact your practice, and why you require financial support.
What's Included

:
All Institute materials, welcome reception at Haskins Laboratories Sunday evening, breakfast and lunch Monday through Thursday, celebration dinner Wednesday evening, and single accommodations at New Haven Hotel Sunday, July 21st through Thursday, July 25th. Transportation to and from the program are not included, and participants will be responsible for their own dinner Monday and Tuesday evenings.
Agenda

:
The full agenda for the 2019 GL2 Institute for Educators will be available shortly. Please plan to arrive to Yale University on the afternoon of July 21st, and depart mid-afternoon of July 25th, 2019.
Please note: All components of the program are designed to build on one another. Missing any portion would not provide the intended experience. Therefore, participants are highly discouraged from arriving late or leaving early.
Confirmed faculty include:
Ken Pugh, PhD

, President, Director of Research, and Senior Scientist, Haskins Labs, Professor of Psychology, UCONN, Associate Professor of Linguistics, Yale University, Associate Professor of Diagnostic Radiology (Adjunct), Yale University School of Medicine

Julie A. Washington, PhD

, Professor and Chair, Department of Communication Sciences and Disorders at Georgia State University

Elena Grigorenko, PhD

, Hugh Roy and Lillie Cranz Cullen Distinguished Professor of Psychology Developmental, Cognitive, & Behavioral Neuroscience Clinical Psychology Program, University of Houston, and Director of Human Genetics Lab, Moscow State University, Russia

Laurie Cutting, PhD, 

Patricia and Rodes Hart Professor of Special Education, Psychology, Radiology, and Pediatrics, Vanderbilt University

Devin M. Kearns, PhD

, Assistant Professor of Special Education at UCONN, Center for Behavioral Education and Research, Research Scientist, Haskins Laboratories

Fumiko Hoeft, MD, PhD

, Professor & Director of BIRC, UCONN

Don Compton, PhD, Florida Center for Reading Research, Florida State University
Cancellation Policy:
Registration cancellations must be requested no later than May 1, 2019, minus a $500 administrative fee. No refunds will be issued after May 1.
Contact Information: vincent.gracco@yale.edu