Edna Ferrel Haskins
Sep. 26, 1911 - Jan. 30, 2000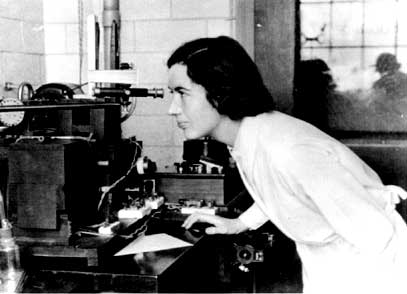 Edna Ferrel Haskins, of Westport, Connecticut, beloved wife of Caryl Parker Haskins, passed away January 30, 2000 at the age of 88. Edna Haskins was born September 26, 1911 in Blyth, Northumberland, England. She attended King's College, Durham University, from which she was graduated with first-class honors in physical chemistry in 1933. Following graduate work at her home university, she came to this country and worked for two years at Radcliffe and at Harvard as a recipient of the Augustus Anson Whitney Fellowship from King's College, and as a Ross Sidgwick Fellow of the British and American Associations of University Women. She received her M.S. in chemistry from Radcliffe in 1937 and her Ph.D. from King's College in the same year.
Following her return to England, she became a member of the senior research and administrative staff in the War Department, carrying on research in diagnostic explosives and working with mist dissolving for aircraft, the results of which were recognized as important in the British war effort. She was then appointed His Majesty's Inspector of Factories in the Ministry of Labor and National Service, the first woman to occupy the post.
In 1940, Edna Ferrell returned to the United States and married Caryl Parker Haskins, the founder of Haskins Laboratories, a private non-profit research laboratory established in 1935. Edna Haskins published several works on her chemical research in alkalimetal hydrides by atomic hydrogen and her investigations of electrolytic dissociation. She and her husband Caryl shared a consuming interest in entomology. Together, they were responsible for some of the most important research in ant biology to date, co-authoring a number of conclusive works, together and with others. Edna Haskins was deeply interested in foreign affairs; she and Caryl Haskins traveled the world extensively.
Dr. Haskins was a member of several organizations and clubs, including the American Association for the Advancement of Science, American Chemical Society, American Association of University Women, American Museum of Natural History, the Cosmopolitan Club of New York City, the Colony Club of New York, and the Sulgrave Club of Washington, D.C.