Anne Fowler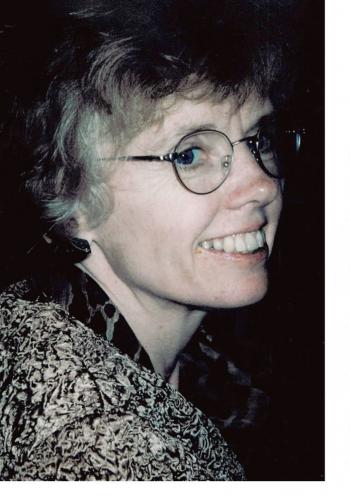 Apr. 15, 1953 - Mar. 27, 2004
Dr. Anne Elizabeth Fowler, a Senior Research Scientist at Haskins Laboratories in New Haven, CT, passed away on Saturday March 27, 2004 at Connecticut Hospice, Branford, after a courageous four and a half year struggle with cancer of an unknown primary.
Dr. Fowler was born in Dedham, MA, April 15, 1953, daughter of the late Charles and Katherine O'Donnell Fowler, and grew up in Pembroke, NH. She began her undergraduate education at Connecticut College, transferring to Rice University in Houston, TX, and graduating in 1975 with a dual major in Russian and Linguistics. She received a Master's degree in Linguistics from Yale University, where she met her husband, Michael Schmidt, now Professor of Physics at Yale.
Dr. Fowler earned her Ph.D. in psychology at the University of Pennsylvania for research in language acquisition in children with Down Syndrome. Dr. Fowler taught psychology as a member of the faculty at Bryn Mawr College from 1990 - 1993 and at Wesleyan University from 1994 to 1997 and was Editor of the Annals of Dyslexia from 1993 to 1999. Her recent work, known as the Early Reading Success Program at Haskins Laboratory and sponsored by various State and Federal grants, has succeeded in bringing researchers and practitioners to the table to find commonalties in how children learn to read and the accompanying implications for teaching. As co-author of the Connecticut Blueprint for Reading, she helped change the way educators and administrators look at reading. Her colleague and friend, Margie Gillis of Haskins says: "Her passion, intelligence, sense of humor and warmth have enlightened many people and will continue to inspire us as we do this important work."
Dr. Fowler has lived in Madison, CT, since 1994 and been an active member of North Madison Congregational Church. Besides her husband, she is survived by a son Daniel (20) and a daughter Julia (17), by siblings, Dr. Kathleen Fowler of Ramsey, NJ, Elaine Fowler of West Haven, Charles H. S. Fowler, G. W. Fowler, and Pam Fowler of Branford. She was pre-deceased by two sisters, Mary Grace Fowler and Virginia Fowler-Mariotti. She is also survived by a host of loving nieces and nephews, cousins, aunts and uncles, and many close friends and colleagues.
Hers was a mind, a heart and a smile that radiated, penetrated and transformed those who knew her. She will be sorely missed.