Whitney Hoffmann, B.A.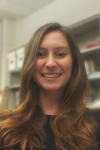 300 George Street, Suite 900, New Haven, CT 06511-6624
Education:
Graduate Assistant at Southern Connecticut State University
SCSU Journal of Student Psychological Research  - Secretary
SCSU Office of Psychological Assessment – Graduate Student Clinician
SCSU – Pursuing MA Psychology
UConn 2013- BA Psychology
Dean's List - Spring 2013
Research Interests:
I am interested in the early predictors of Autism Spectrum Disorder, learning styles for children with Down Syndrome, abstract assessment practices for intelligence and achievement, the processes involved in arithmetic learning, and neuro-cognitive changes during the acquisition of novel languages.
Research Associate — Responsibilities include
Administer verbal and non-verbal behavioral assessments and assist in the administration of neuro-imaging experimental components through fMRI.
Projects include:
A40-1 –This longitudinal, cross-sectional collaboration  examines what early predictors are linked to speech and reading abilities. Three time point components display learning in children with increasing exposure to phonology and literacy in the earliest years of primary school.
A182 – This project intends to pinpoint the mechanisms used in novel language learning and what predictors are associated with reading disabilities.
A204 - This study aims to identify the neural processes that are used to combine visual and auditory speech  information. in children with Autism Spectrum Disorder, children with speech-sound disorders, and typically developing children.