Trey Avery, Ph.D.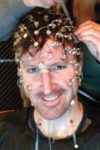 300 George Street, Suite 900, New Haven, CT 06511-6624
Affiliation
Department of Linguistics
Yale University
Biosketch
Trey Avery, Ph.D. is a postdoctoral fellow at Haskins Laboratories. His research interests include the use of functional neuroimaging and other biomarkers to gain insights into the effects of interventions for children and adults. His dissertation research examined differences in attentional networks, executive function and stress regulation in young children engaged in mindfulness based activities and programs using a battery of brain (event related potentials), salivary and behavioral measures.
His Doctoral work was conducted in the Neurocognition of Language Lab in the Department of Biobehavioral Sciences at Columbia University. He holds a M.S. in Neuroscience & Education from Teachers College, Columbia University and a B.A. in American Cultural Studies from Fairhaven College at Western Washington University.