Tian Hong, Ph.D.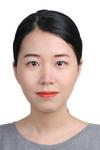 Affiliation:
Haskins Laboratories
Education:
| | |
| --- | --- |
| Ph.D. | Psychology, State Key Laboratory of Cognitive Neuroscience and Learning & IDG/McGovern Institute for Brain Research, Beijing Normal University |
Research Interests:
My research is concerned with speech perception, articulation, and how speech and reading connect. By exploring the neurocognitive origins of typical reading and adding a developmental perspective on speech and reading, my research tries to find early predictors for early reading development. My current research at Haskins Laboratories mainly focuses more on learning and plasticity in disabled readers. I am interested in the dynamic adaptive neurocognitive changes during reading intervention, by tracking neural signals across multiple times with functional near infrared spectroscopy (fNIRS) tests.
Selected Publications:
Hong, T., Wang, J., Zhang, L., Zhang, Y., Shu, H., & Li, P. (2019). Age-sensitive associations of segmental and suprasegmental perception with sentence-level language skills in Mandarin-speaking children with cochlear implants. Research in developmental disabilities, 93, 103453
Hong, T., Shuai, L., Frost, S. J., Landi, N., Pugh, K. R., & Shu, H. (2018). Cortical responses to Chinese phonemes in preschoolers predict their literacy skills at school age. Developmental neuropsychology, 43(4), 356-369.
Zhang, L., Wang, J., Hong, T., Li, Y., Zhang, Y., & Shu, H. (2018). Mandarin-Speaking, Kindergarten-Aged Children With Cochlear Implants Benefit From Natural F 0 Patterns in the Use of Semantic Context During Speech Recognition. Journal of Speech, Language, and Hearing Research, 61(8), 2146-2152
Xia, Z., Hong, T., Zhang, L., & Shu, H. (2014). Application of Auditory Brainstem Response (ABR) in Speech Perception Research. Advances in Psychological Science, 22(1), 14-26.