Morgan Bontrager, B.S.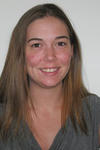 300 George Street, Suite 900, New Haven, CT 06511-6624
Education
Bachelor of Science in Psychology,
Central Michigan University
Research Interest          
I am currently working as a research associate under Dr. Julie VanDyke. This research examines the differences between skilled and unskilled adult readers using a variety of techniques including EEG/ERP, eye tracking and fMRI. In addition, I work directly with subjects to collect behavioural data for individual differences analyses.
NIH Grant RO1 HD-073288.