Elpis Pavlidou, Ph.D.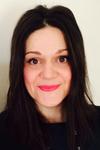 Lecturer in Psychology in Education (PiE)
Research Lab Coordinator for Psychology in Education Research Center (PERC)
Department of Education
University of York
York
Research Scientist
Haskins Laboratories
Biography
I am a cognitive neuroscientist in the making who studied Psychology in Greece, went to Scotland to continue studying, decided to move to the USA to chase my academic 'American Dream' and I am now based in England. In 2010, I received my PhD from The University of Edinburgh.
During that time, I published my studies in international journals (phew!) and presented my work in conferences around the world (successfully, I'd like to think). In 2012, Europe finally decided to fund my work for 3 years via the Marie Curie International Fellowships scheme (long story).
I am currently a Lecturer in Psychology in Education but I am also affiliated with Haskins Laboratories (Yale University) and the University of Edinburgh (the first cut is the deepest). Please note that all my summer breaks are spent basking in the Greek Sun.
Representative Publications
Artificial Grammar Learning performance in good and poor readers: An fMRI study of young children. Pavlidou, E., Buis, B., Mencl, E. & Pugh, K. (2016). Journal of Cognitive Neuroscience.
Implicit Statistical Learning across modalities in young typical readers: an individual differences approach. Pavlidou, E. & Bogaerts, L. (2016). Journal of Experimental Psychology: Learning, Memory & Cognition.
Implicit learning in Developmental Dyslexia: Evidence from artificial grammar learning across modalities in children with developmental dyslexia. Pavlidou, E., Springfield, J., Williams, J. & Pugh, K. (2016). Research in Developmental Disabilities.
Visit Dr Elpis Pavlidou's profile on the York Research Database to:
See a full list of publications
Browse activities and projects
Explore connections, collaborators, related work and more