Andrew Jahn, Ph.D.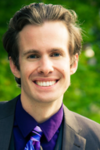 300 George Street, Suite 900
Education
PhD Cognitive Neuroscience, Indiana University
BA Psychology, Carleton College
Research Interests
My research focuses on prediction and prediction error – the difference between expectation and outcome. I use computational modeling and fMRI to examine how prediction affects the processing of sentences, as well as how interference from items in working memory affects reading comprehension.
Grant Support
Postdoctoral Researcher, "Retrieval interference in skilled and unskilled reading comprehension" (A197)
Representative Publications
1. Jahn A, Matsuki K, Molfese PJ, Van Dyke JA (under revision at JEP: General) Individual differences in white matter tractography: A random forests analysis.
2. Jahn A, Nee DE, Alexander WH, Brown JW (2016) Distinct regions in medial prefrontal cortex process pain and cognition. J Neurosci 36:12385-92
3. Jahn A, Nee DE, Alexander WH, Brown JW (2014) Distinct regions of anterior cingulate cortex signal prediction and outcome evaluation. Neuroimage 95:80-89
4. Nee DE, Jahn A, Brown JW (2014) Prefrontal Cortex Organization: Dissociating Effects of Temporal Abstraction, Relational Abstraction, and Integration with fMRI. Cerebral Cortex 24:2377-87
5. Jahn A, Nee DE, Brown JW (2011) The neural basis of predicting the outcomes of imagined actions. Frontiers in Decision Neuroscience 5:128