Visual feedback and childhood speech disorders (Ages 10-14)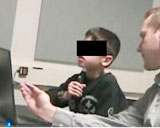 Children ages 8-14 with speech articulation difficulties who misarticulate /r/ (and other speech sounds) are being sought for a study. Children would participate in several speech and language tasks to determine eligibility. Children who qualify would participate in up to 14 speech lessons using ultrasound to provide real-time visual feedback images of the tongue. Contact: learn@haskins.yale.edu or call 203-865-6163 x245. Principal Investigator: Jonathan Preston, PhD CCC-SLP. (HIC#1303011662) For additional information, please download our flyer [pdf]. Visit the Ultrasound Visual Feedback website for additional information. To sign up for a study, please fill out the Study Participant  form.
Download our brochure.